Helping patients to have health check nearby, providing health monitoring, without frequently visiting doctors or hospitals, it can help patients check routine health condition at any time and talk with doctors more efficiently when they need doctor consultation, furthermore, it also release the hospital burden because it saves much time for medical staffs to help patient take health check one by one, and also avoid manually input the wrong health data by careless mistakes, it also boost the telemedicine service, which help patient stay at home or office to talk with doctors through healthcare software or APP by sharing the personal health information, and build patient electronic medical records.
Definition
Self-service health kiosk allows people to take vital sign health check at their nearby health stations by themselves, including the measurements of blood pressure, SPO2, temperature, BMI, and body composition, the results will be stored in local machine or transferred to a cloud server, so the people can check his health report of history and monitor his healthcare condition, the personal health results could be used as the data for telemedicine solutions.
General introduction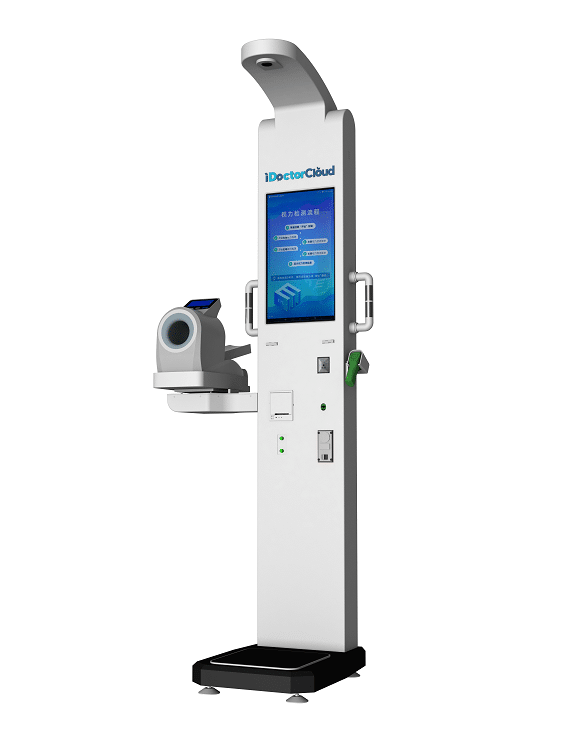 Operation video
Health report ticket

Contents:
Date & Time
Obesity index
Height
Weight
BMI
Chronic diseases index
Blood pressure
Systolic blood pressure
Diastolic blood pressure
Pulse rate
Oxygen saturation percentage
Temperature
Glucose(blood sugar)
Uric acid
Body composition index
Body fat mass
Basal metabolism
Body water
Skeletal muscle
Visceral fat level
Extracellular fluid
Intracellular fluid
Total water
Protein
Inorganic salts

Health score:
Body age
Overall rating
SDK/API explanation
This healthcare kiosk can connect with HIS(Hospital Information System) or EMR(Electronic Medical Record) based on SDK(Software Development Kits), so the data can be used by any platform such as telemedicine applications, employee evaluation systems, health screening projects of the government, discuss with us for more details.
Knowing the outstanding feature
Most of the health kiosks on market choose home-use blood pressure monitor, which is not accurate when it is frequently used in public locations every day, and its circumference of the tunnel cuff is small and hard to insert big arm(Below image explains iDoctorCloud BP circumference is 42 cm which is much larger than other brands on the market), click here to know more advantages of our blood pressure monitor

Easy UP & DOWN for BP test gesture option
Considering different health screening standards for properly measure the blood pressure index, iDoctorCloud blood pressure monitor is installed on a bracket which is UP & DOWN controlled by an electronic motor, so the customer can simply press a button and choose to stand or sit gesture to take the examination(see above video).
Main features
Main functions
| | |
| --- | --- |
| Height sensor | Military-grade probe, imported from the U.S, non-contact ultrasound sensor |
| Range | 10.0~200cm |
| Accuracy | ±0.5cm |
The BMI is defined as the body weight in kg divided by the body height in the square meters, it indicates how your body weight status is, such as normal or obesity, if it is over the normal range then you should be aware to decrease or increase your body weight.
BMI=Body weight(kg)/height(m2)
Standard from WHO:
| BMI | Nutritional status |
| --- | --- |
| Below 18.5 | Underweight |
| 18.5–24.9 | Normal weight |
| 25.0–29.9 | Pre-obesity |
| 30.0–34.9 | Obesity class I |
| 35.0–39.9 | Obesity class II |
| Above 40 | Obesity class III |
Blood pressure range
(0~270)mmHg,[(0~36)Kpa]
Pulse
40 ~180 times/min
Accuracy
Blood pressure: <±2mmHg(±0.267kpa)
Pulse: <±2%
Power
100-240V,50-60Hz,1.6-0.8A
Environment temperature
5℃~40℃
Humidity
15%RH~80%RH
Dimension
471.5mm(L)*402.0mm(W)*309.0mm(H)
Protection
I type, B Class
Weight
8kg
Arm circumference
17-42cm
Wave length
red light: 6663m, infrared light: 890nm
Sensor
Double wave LED
| | |
| --- | --- |
| Test method | Infrared handheld thermometer |
| Accuracy | 0.1 ℃ |
| Environment | 10~40℃ |
| Storage | 0~50℃ |
| Humidity | ≤85% |
| Power | DC 9V |
| Dimension | 150*75*40mm |
| Weight | 172g |
| Range | 32.0~42.5℃ |
| Accuracy | ≤±0.3℃ |
| Power consumption | ≤120mw |
| Test distance | 5 – 8 cm |
| Auto turn off | 10-15 seconds |
| | |
| --- | --- |
| Range | 35%~100% |
| Power of maximum light output | ≤2mW |
| Accuracy | ±2% |
| Pulse | 30~250bpm |
| Environment temperature | 5℃~40℃ |
| Relative humidity | 15%~95% |
Volume for blood glucose
0.6μL
Volume for uric acid
3μL
Sample type
Capillary whole blood, Venous whole blood
Calibration
Plasma equivalent
Measuring time for blood glucose
5±1s
Measuring time for uric acid
25±1s
Storage/transportation conditions
-20℃~55℃
Dimension
108*66*22(mm)
Weight
About 100g
Power source
3V DC, 10mA, 2 AAA alkaline batteries
Battery life
perform up to 1,000 tests
Display
LCD
Memory
500 blood glucose test results with date and time
100 blood glucose control solution test results with date and time
100 uric acid test results with date and time
100 uric acid control solution test results with date and time
Condition for blood glucose
10 ℃~35℃, RH≤80%
Condition for uric acid
15 ℃~35℃, RH≤80%
Measurement units for blood glucose
mg/dL or mmol/L
Measurement units for uric acid
mg/dL or μmol/L
Measurement range for blood glucose
20~600 mg/dL or 1.1~33.3 mmol/L
Measurement range for uric acid
3.0~20.0 mg/dL or 181~1188 μmol/L
Accuracy: 95% test result of glucose meet the requirement below:
| | |
| --- | --- |
| Concentration Range | Bias% |
| <5.5mmol/L(100mg/dL) | Within ±0.83mmol/L(±15mg/dL) |
| ≥5.5mmol/L(100mg/dL) | Within ±15% |
Accuracy: 95% test result of uric acid meet the requirement below:
| | |
| --- | --- |
| Concentration Range | Bias% |
| ≤297μmol/L(5mg/dL) | ≤±59.4μmol/L(1mg/dL) |
| >297μmol/L(5mg/dL) | ≤±20% |
Precision: Test result of glucose meet the requirement below:
| | |
| --- | --- |
| Concentration Range | Requirement |
| <5.5mmol/L(100mg/dL) | SD<0.34mmol/L(6mg/dL) |
| ≥5.5mmol/L(100mg/dL) | CV<6.0% |
Precision: Test result of uric acid meet the requirement below:
| | |
| --- | --- |
| Concentration Range | Requirement |
| ≤297μmol/L(5mg/dL) | SD<22.2μmol/L(0.37mg/dL) |
| >297μmol/L(5mg/dL) | CV<7.5% |
How To Use Self-Service Health Kiosk
Step 1, Log-in, you need to input your mobile phone number, or email address, or scan your QR code of health APP(third party), or choose a guest, or input a coin, which is to start the measurements, there are voice prompts during the whole process of measurements.
Step 2, height & weight, stand on the platform, the machine will automatically measure your height and weight, then it calculates your BMI(body mass index), and reminds you if you are normal weight or overweight.
Step 3, body composition analysis, keep standing and using your two hands to hold the metal handles on the two sides of the machine, wait for about 30 to 40 seconds, it will measure your body compositions.
Step 4, temperature, hold the thermometer and test your forehead temperature, ensure no hat or hair in front of your forehead.
Step 5, blood oxygen, insert your index fingertip into the probe of the oximeter, ensure your fingertip touching the bottom of the probe, and wait for about 40 to 50 seconds to have the result.
Step 6, blood pressure, insert your arm and measure your blood pressure, this blood pressure monitor bracket is very friendly because it can be adjusted higher or lower, you could choose to stand or sit to have the measurement, notice that the customer should be reminded to stay calm at least 15 minutes before this measurement.
Step 7, Glucose & uric acid, this function is optional, because it needs a trained operator to collect the fingertip blood, the operator cleans the fingertip with an alcohol cotton swab, and collect the blood by a test strip and insert into the glucose/uric acid meter, wait for the result displaying on the screen.
Step 8, report, click "Report" button to review your health data, and click "email" to have your report sent to your email address, your health data is stored locally or in the cloud server(third party), you could check your health history at any time.
The above steps can be self-serviced without any assistance(except test glucose & uric acid), so it is suitable for many areas:
Applications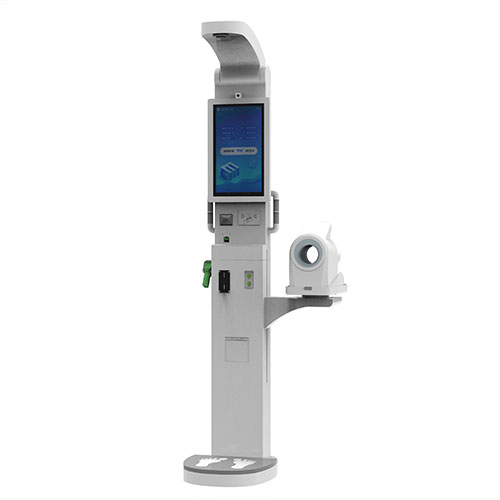 Want to know price and delivery? Contact us!
Additional functions
It adds an embedded camera(optional), which could be activated as a video chat camera for online telemedicine, it helps the customer and doctor to experience a friendly environment and helps them more interaction and having more trust in each other.
It supports advertisement broadcasting, by professional advertisement program, it remotely updates the advertisements on the internet, so this can be a quite amazing function for management companies because they can benefit from the advertisement income aside from health checkup charges. (Notice this is not a standard function, so please consult with us if you need this function)
It provides SDK(Software development kits), to work with(or communicate with) the hospital systems, or insurance companies, or other e-health systems, iDoctorCloud will send all the health data to the third-party platform, which could help the third party to build a complete health tracking system.
If you need more functions, please visit here,
If you want to read more articles related to health check kiosk, please visit here.
If you want to be our distributor, please click here for an inquiry
Self check-in
Check-in modes include: Email, mobile number, QR code, identification card, or social insurance card, all check-in modes are combined under one person's name, which means no matter which way he logs in, he will be directed to his personal health care record.
QR code check-in is the most convenient way for people to check-in, QR code is actually unique for each person, so the health results can be organized into his personal record.
For third party telemedicine platform, your APP program is suggested to create a unique QR code for each different member, this QR code will be parsed as a personal identification number, so the health data can be stored accoding to different QR code number, and the health data would be transferred to cloud with QR code number simultaneously, so the third party telemedicine system can clearly archive different people's health report according to his QR code/Mobile number.
Comparasion with other brands
| | | |
| --- | --- | --- |
| Product | Height, Weight scale | Self-service health kiosk |
| Applied in | Vending industry | Health care & clinics |
| OS | PLC control board | Android 7.1 |
| Blood pressure monitor | Home use and soft cuff | Medical use and tunnel cuff |
| Accuracy of BP | ±10% | ±3% |
| BP Bracket | Manual | Electronic control |
| Circumference of Cuff | <32cm | <42cm |
| Screen size | 10 inches | 21 inches |
| Screen resolution | 800*600 | 1980*1080 |
| Video advertisement update | Local | From internet |
| Body composition analysis | Yes | Yes |
| Temperature | Yes | Yes |
| SPO2 | No | Yes |
| Residence card | No | Yes |
| QR Code | No | Yes |
| WIFI | No | Yes |
| Database | No | Yes |
| Thermal printer | 56mm | 56mm or 80mm |
| A4 printer | No | Yes |
| Program upgrade | Hard: Local | Easy: From internet |
| Work with HIS | Hard & limited | Easy & expandable |
| API | N/A | Yes |
| Customization | Hard | Easy |
FAQ
Related Products
Related Articles