Self Service Health Kiosk
An integrated health checkup station at one place
It is to check the health of employees, workforces, residences, organization members, or elderly people, it can be widely applied in different organizations where it is not convenient to take a comprehensive health checkup because of time or locations. It helps to measure, early prevention, monitor, track each people's potential chronic diseases, such as cardiovascular diseases, hypertension, it can dramatically reduce the health screening period and waiting queue time of the people before seeing a doctor, and it is especially suitable for rural or mountain areas where lack of medical equipment.
What can self checkup kiosk do
C100 is a self-examination health check kiosk for public health screening and chronic disease management, it can be self-operated to measure height, weight, BMI, body composition(body muscle, body water, bone mass, basal metabolism), temperature, blood oxygen.
Low cost solution
It utilizes medical level ABS plastic as the main material and with fine craftsmanship, which makes it safe and elegant, so it is a low-cost solution for large area's telemedicine system construction.
Functions:
| | |
| --- | --- |
| Height sensor | Military-grade probe, imported from the U.S, non-contact ultrasound sensor |
| Range | 10.0~200cm |
| Accuracy | ±0.5cm |
The BMI is defined as the body weight in kg divided by the body height in the square meters, it indicates how your body weight status is, such as normal or obesity, if it is over the normal range then you should be aware to decrease or increase your body weight.
BMI=Body weight(kg)/height(m2)
Standard from WHO:
| BMI | Nutritional status |
| --- | --- |
| Below 18.5 | Underweight |
| 18.5–24.9 | Normal weight |
| 25.0–29.9 | Pre-obesity |
| 30.0–34.9 | Obesity class I |
| 35.0–39.9 | Obesity class II |
| Above 40 | Obesity class III |
Blood pressure range
(0~270)mmHg,[(0~36)Kpa]
Pulse
40 ~180 times/min
Accuracy
Blood pressure: <±2mmHg(±0.267kpa)
Pulse: <±2%
Power
100-240V,50-60Hz,1.6-0.8A
Environment temperature
5℃~40℃
Humidity
15%RH~80%RH
Dimension
471.5mm(L)*402.0mm(W)*309.0mm(H)
Protection
I type, B Class
Weight
8kg
Arm circumference
17-42cm
Wave length
red light: 6663m, infrared light: 890nm
Sensor
Double wave LED
| | |
| --- | --- |
| Test method | Infrared handheld thermometer |
| Accuracy | 0.1 ℃ |
| Environment | 10~40℃ |
| Storage | 0~50℃ |
| Humidity | ≤85% |
| Power | DC 9V |
| Dimension | 150*75*40mm |
| Weight | 172g |
| Range | 32.0~42.5℃ |
| Accuracy | ≤±0.3℃ |
| Power consumption | ≤120mw |
| Test distance | 5 – 8 cm |
| Auto turn off | 10-15 seconds |
| | |
| --- | --- |
| Range | 35%~100% |
| Power of maximum light output | ≤2mW |
| Accuracy | ±2% |
| Pulse | 30~250bpm |
| Environment temperature | 5℃~40℃ |
| Relative humidity | 15%~95% |
Volume for blood glucose
0.6μL
Volume for uric acid
3μL
Sample type
Capillary whole blood, Venous whole blood
Calibration
Plasma equivalent
Measuring time for blood glucose
5±1s
Measuring time for uric acid
25±1s
Storage/transportation conditions
-20℃~55℃
Dimension
108*66*22(mm)
Weight
About 100g
Power source
3V DC, 10mA, 2 AAA alkaline batteries
Battery life
perform up to 1,000 tests
Display
LCD
Memory
500 blood glucose test results with date and time
100 blood glucose control solution test results with date and time
100 uric acid test results with date and time
100 uric acid control solution test results with date and time
Condition for blood glucose
10 ℃~35℃, RH≤80%
Condition for uric acid
15 ℃~35℃, RH≤80%
Measurement units for blood glucose
mg/dL or mmol/L
Measurement units for uric acid
mg/dL or μmol/L
Measurement range for blood glucose
20~600 mg/dL or 1.1~33.3 mmol/L
Measurement range for uric acid
3.0~20.0 mg/dL or 181~1188 μmol/L
Accuracy: 95% test result of glucose meet the requirement below:
| | |
| --- | --- |
| Concentration Range | Bias% |
| <5.5mmol/L(100mg/dL) | Within ±0.83mmol/L(±15mg/dL) |
| ≥5.5mmol/L(100mg/dL) | Within ±15% |
Accuracy: 95% test result of uric acid meet the requirement below:
| | |
| --- | --- |
| Concentration Range | Bias% |
| ≤297μmol/L(5mg/dL) | ≤±59.4μmol/L(1mg/dL) |
| >297μmol/L(5mg/dL) | ≤±20% |
Precision: Test result of glucose meet the requirement below:
| | |
| --- | --- |
| Concentration Range | Requirement |
| <5.5mmol/L(100mg/dL) | SD<0.34mmol/L(6mg/dL) |
| ≥5.5mmol/L(100mg/dL) | CV<6.0% |
Precision: Test result of uric acid meet the requirement below:
| | |
| --- | --- |
| Concentration Range | Requirement |
| ≤297μmol/L(5mg/dL) | SD<22.2μmol/L(0.37mg/dL) |
| >297μmol/L(5mg/dL) | CV<7.5% |
How To Use Self Service Health Checkup Kiosk
First, Log-in, you need to input your mobile phone number, or email address, or scan your QR code of health APP(third party), or choose a guest, or input a coin, which is to start the measurements, there are voice prompts during the whole process of measurements.
Second, height & weight, stand on the platform, the machine will automatically measure your height and weight, then it calculates your BMI(body mass index), and reminds you if you are normal weight or overweight.
Third, body composition analysis, keep standing and using your two hands to hold the metal handles on the two sides of the machine, wait for about 30 to 40 seconds, it will measure your body compositions.
Fourth, temperature, hold the thermometer and test your forehead temperature, ensure no hat or hair in front of your forehead.
Fifth, blood oxygen, insert your index fingertip into the probe of the oximeter, ensure your fingertip touching the bottom of the probe, and wait for about 40 to 50 seconds to have the result.
Sixth, blood pressure, insert your arm and measure your blood pressure, this blood pressure monitor bracket is very friendly because it can be adjusted higher or lower, you could choose to stand or sit to have the measurement, notice that the customer should be reminded to stay calm at least 15 minutes before this measurement.
Seventh, Glucose & uric acid, this function is optional, because it needs a trained operator to collect the fingertip blood, the operator cleans the fingertip with an alcohol cotton swab, and collect the blood by a test strip and insert into the glucose/uric acid meter, wait for the result displaying on the screen.
Eighth, report, click "Report" button to review your health data, and click "email" to have your report sent to your email address, your health data is stored locally or in the cloud server(third party), you could check your health history at any time.
The above steps can be self serviced without any assistance, so it is suitable for many areas: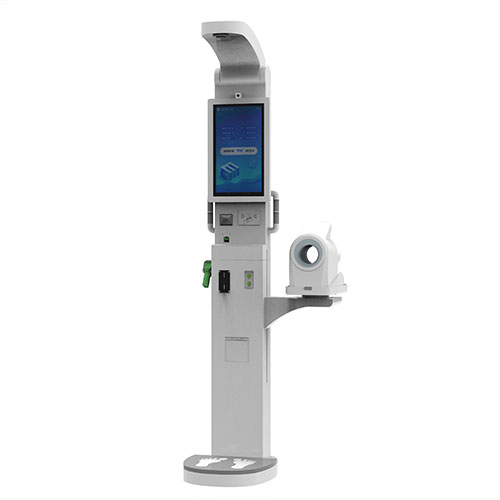 Hospitals
Clinics
Elderly homes
Pharmacies
Health centers
Residence communities
Police stations
Airports
Bus stations
Schools
Offices
Military
Want to know price and delivery? Contact us!
Additional functions:
It adds an embedded camera, which could be activated as a video chat camera for online telemedicine, it helps the customer and doctor to experience a friendly environment and helps them more interaction and having more trust in each other.
It supports advertisement broadcasting, by professional advertisement program, it remotely updates the advertisements on the internet, so this can be a quite amazing function for management companies because they can benefit from the advertisement income aside from health checkup charges. (Notice this is not a standard function, so please consult with us if you need this function)
It provides SDK(or API, or Protocol), no matter hospital systems, or insurance companies, or other e-health system, our machine will send all the health data to the third-party platform, which could help the third party to build a complete health tracking system.
Features Of Self Service Health Checkup Kiosk
Android 7.1 operation system
21 inches touch LCD screen(other sizes could be customized)
Advertisement video or image playing when the screen is idle
High resolution hidden camera for telemedicine
USB telephone(Optional)
Support WIFI and hotspot
56mm thermal printer

OEM/ODM accepted

Multiple languages support
Log In Methods:
Mobile number
Email address
Coin acceptor
QR/Bar code reader

Your local identification or social insurance card(Customized)
Other vending machine VS. C100
|   | Other vending machine | C100 |
| --- | --- | --- |
| Image | | |
| Applied in | Vending industry | Health care & clinics |
| OS | PCB control board | Android 7.0 |
| Appearance | Middle class | High class |
| Blood Pressure Monitor | Home use and cloth cuff | Medical use and tunnel type |
| Accuracy of BP | ±10% | ±3% |
| BP Bracket | Manual | Electric control |
| Circumference of Cuff | <32cm | <42cm |
| Screen Size | 10 inches | 21 inches |
| Screen Resolution | 800*600 | 1980*1080 |
| Video Advertisement | No | Yes |
| Body Composition Analysis | Yes | Yes |
| Body Temperature | Yes | Yes |
| Blood Oxygen | Customized | Yes |
| Residence Card | No | Yes |
| QR Code | No | Yes |
| WIFI | No | Yes |
| Database | No | MySQL database |
| Thermal Printer | 56mm | 56mm or 80mm |
| A4 Report | Customized | Yes |
| Program Update | Hard: by programer locally | Easy:by internet remotely |
| Work with HIS | Customized | Yes |
| API support | Yes | Yes |
| Customization | Hard | Easy |
| Certificate | CE | CE |
FAQ
You May Also Like