Know About iDoctorcloud
iDoctorCloud is a start-up company who is focusing on the international supply of health kiosk and related medical equipment, our goal is to provide best solution for health screening and primary health care industry.
Health kiosk is a new concept which provides one-stop-service for the public health examination and online diagnosis, it integrates as many health examinations as it can do, such as blood pressure, body temperature, ECG, urine routine, glucose, cholesterol, blood lipid, uric acid, Ultrasound scanner, and other more measurement which we will gradually add.
Why iDoctorcloud Start?
George Huang, who served as international market director in iDoctorcloud has more than 20 years of industry experience with software development and R&D engineers team work. He has studied the industry thoroughly and have good vision on the future telemedicine systems, especially for the developing countries.
There are still 2/3 of population living out of the city centers and need more intensive medical care all over the world, in most of the countries, the government lacks enough professionals and medical equipment to cover the public health care demand, so one-stop-service health check station can significantly help the government to build the medical care system across the country, and dramatically increase the efficiency of patients and save lots of time of doctors, which can benefit the public health system and help to improve the medical conditions in the areas.
According to our experience, the health kiosk can save lots of efficiency for the patients and doctors, in most of the countries, the people need to have basic vital sign data before seeing a GP doctor, such as blood pressure, temperature, pulse rate etc.
iDoctorCloud provides various of solutions for different applications, such as hospitals, clinics, insurance companies, rural communities, home visit doctors.
All the components(testers) are well tested and seriously evaluated in different clinics and got CE certificates, all of our suppliers are long time operated on market and proved to be stable and durable performance.
Why Choose iDoctorCloud?
Here is our selling proposition for your reference:
Integration of various of health examinations at one stop
Utilizing advanced technology to detect early disease
All measurement testers are qualified with CE certificates
Cloud based health care network
APP for people to check his own health history
SDK/APIs are provided for integration
Available for expansion of more functions/measurements
We have complete medical equipment chain supply
We have matured production lines
We have abundant experience to provide most competitive products to customers
We have experienced a few programmer teams to support in good professional manner
We can provide customization service according to projects demands
We will make health care convenient, affordable, health care would be everywhere, iDoctorCloud will be everywhere.
Why iDoctorCloud Is Trustworthy?
Business is long term cooperation, telemedicine is a new industry like the sun in the morning, the most important issue is good quality and honesty attitude to the customers, we really highly value each moment when customers are coming to us, and listen to your advice and see how we can work together.
We know how to fast adapt to the market development, being flexible and considerate about the functions are most important, second is knowing how to improve the customer experience by experiencing from the angle of customers.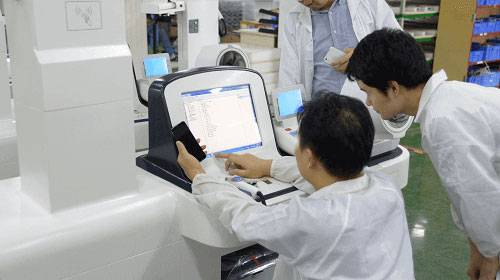 Our mission is to dedicate to health screening and health tracking and improvement solution, by health screening examination with AI technology, iDoctorCloud will take big data analysis as our development target, based on public health history data, the cloud algorithm will give prediction on personal health trend and give warning at the early stage, this is a long term strategy of iDoctorCloud, and we will strive to achieve this goal finally.
Public health is a long term task for our human beings, it is our responsibility to provide solution for people to prevent early disease, lower down the mortality, improve personal health condition and know his own condition, know how to improve his health status.
iDoctorcloud will keep focusing on the health care industry and remain our pioneering position, we will keep investing and focusing on this field, we will provide more and more up-to-date, cost effective solutions for public.