Know About iDoctorcloud
iDoctorCloud is a China based telemedicine targeted company which provides health checkup kiosks and cloud solutions, as we know there are two types of telemedicine fileds, one is home use telemedicine, the other one is public telemedicine.
iDoctorCloud mainly focuses on public telemedicine solutions for government and private businesses for public health care service, such as corporations, ornizations, transportation stations, schools, hospitals, clinics, health centers, insurance companies, rural areas, elderly homes, police stations, prisons etc.
Health kiosk includes: patient check-in kiosk, medical record enquiry kiosk, while we are focusing on full body health checkup, which is a one-stop-service for the public health examination, it provides from basic to advanced health examinations, such as height, weight, BMI, blood pressure, temperature, blood oxygen(SPO2), ECG(EKG), urine routine, glucose(blood sugar), cholesterol, lipid profile, uric acid, Ultrasound scan(Thyroid, abdomen, heart), which can examine most of the chronic diseases, in another words, it is a chronic disease monitoring system which provides health early prevention and intervention for the patient.
Health care cloud solutions is a remote monitoring platform for authorities to monitor the real-time health conditions in one area/city/state or a country, it shows the patient figures compared with total population, it could sort the results by age, gender, areas, disease categories, obviously this helps local government to change or setup his policies which maximum adapt to the real health situation in this area and make the best use of public medical resources.
Why iDoctorcloud Start?
In most of the areas, There are still 2/3 of the population living out of the city centers and need more intensive medical care all over the world, in most of the countries, the government lacks enough doctors and nurses and medical equipment to cover the public health care demand, so one-stop-service health check station can significantly help the government to build the medical care system across the areas, and dramatically increase the efficiency of patients and save lots of time of doctors, which can benefit the public health system and help to improve the medical conditions in the areas.
Telemedicine saves lots of trouble for the patients and doctors, such as time spent on the road, time spent on the waiting in the hospitals, telemedicine could help the patients to have an online remote diagnosis, which is more convenient than before, it can solve the problem of short of doctors in rural areas and offers the same opportunity for the people outside of the cities as the people in the cities.
iDoctorCloud provides various healthcare station solutions for different applications, such as hospitals, clinics, insurance companies, rural communities, home visit doctors, based on these telemedicine kiosks, the residences have more options and he can take a health examination at his convenient checkpoints.
Why Choose iDoctorCloud?
Here is our selling proposition for your reference:
Integration of various of health examinations at one stop
Utilizing advanced technology to detect early disease
All measurement testers are qualified with CE certificates
Cloud based health care network
APP for people to check his own health history
SDK/APIs are provided for integration
Available for expansion of more functions/measurements
We have complete medical equipment chain supply
We have matured production lines
We have abundant experience to provide most competitive products to customers
We have experienced a few programmer teams to support in good professional manner
We can provide customization service according to projects demands
We will make health care convenient, affordable, health care would be everywhere, iDoctorCloud will be everywhere.
Why iDoctorCloud Is Trustworthy?
Business is long term cooperation, telemedicine is a new industry like the sun in the morning, the most important issue is good quality and honesty attitude to the customers, we really highly value each moment when customers are coming to us, and listen to your advice and see how we can work together.
We know how to fast adapt to the market development, being flexible and considerate about the functions are most important, second is knowing how to improve the customer experience by experiencing from the angle of customers.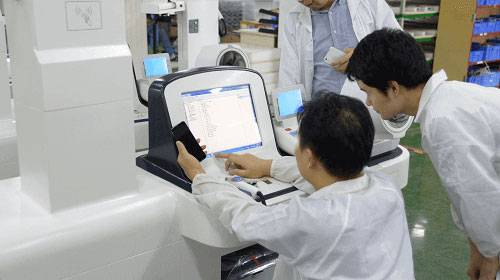 Our mission is to dedicate to health screening and health tracking and improvement solution, by health screening examination with AI technology, iDoctorCloud will take big data analysis as our development target, based on public health history data, the cloud algorithm will give prediction on personal health trend and give warning at the early stage, this is a long term strategy of iDoctorCloud, and we will strive to achieve this goal finally.
Public health is a long term task for our human beings, it is our responsibility to provide solution for people to prevent early disease, lower down the mortality, improve personal health condition and know his own condition, know how to improve his health status.
iDoctorcloud will keep focusing on the health care industry and remain our pioneering position, we will keep investing and focusing on this field, we will provide more and more up-to-date, cost effective solutions for public.