Height Weight Scale Wholesale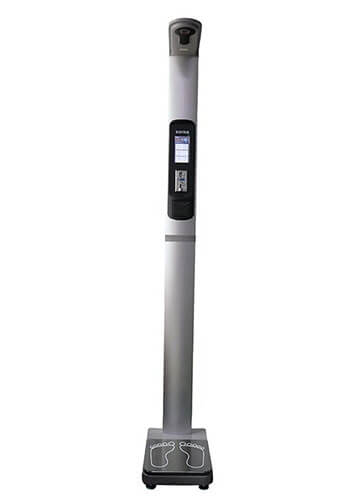 Module number: L08
7 inches touch LCD screen
Ultrasonic height probe(20-200cm, deviation at ±0.1cm)
Loadcell (1-300kg, deviation at ±100g)
Automatic BMI calculation
Coin acceptor
QR code reader
Thermal printer(with cutter or without cutter)
Voice announcement
RS232
Bluetooth and WIFI communication
Want to know price and delivery? Contact us!
Detailed Photos Of L08 Height Weight Scale
This L08 is one of our popular height weight scale, which with BMI measurement.
Advantages Of L08 Height Weight vending machine Scale
Ultrasonic Detection
Height & weight with BMI scale is widely applied in hospitals, clinics, heath centers, schools for health screening, it utilizes a ultrasound probe to detect height and a loadcell to detect weight, no any manual operation is needed during the process, so it is quite efficient health check machine for large amount of people during the health examination.
SDK Is Provided, height weight vending machine
By QR/Bar code reader to read the QR or Bar code on a wrist band of the patient, the health management system could automatically collect the patients' individual infroamtion so the patient can immediately begin the measurement and the nurse has no manual action to write down or upload the data to the center, all these jobs can be done through iDoctorcloud scale, which is by RS232 or WIFI communication.
Notes: we need your HIS protocol so we know how to transfer the data to your database.
Advanced Health Tracking System
iDoctorcloud provides a public health monitoring software which could collect all the data from iDoctorcloud health check points, so by this software, your local government could know the general health condition of all the public people, this information must be accurate and stored as history data of each person, and this could help government to make new decision on future medical investment and provide professional training courses for needed people.
iDoctorcloud APP also helps people to track his own personal health history, iDoctorcloud health check solution includes height, weight, BMI, blood pressure, arteriosclerosis, ECG, blood sugar, uric acid, cholesterol, hemoglobin, urine etc, by continuing health data and receiving health advice, people could realize his health condition and adjust his living behaviour. height weight vending machine is very important for Medical treatment.
Notes: iDoctorcloud APP could provide health and food advice after receiving the people's health data and finishing the analyze, this health and food advice could accompany you for life time if you continue to have health checkups on any one of iDoctorcloud check points.
You May Also Like