ECG Software
How To Use ECG Test
ECG Technical Specifications
Could switches between 6 channels and 12 channels ECG mode
Frequency Response:0.05~150Hz (-3.0dB ~ + 0.4dB)
Sensitivity: 5 mm / mV, 10 mm / mV, 20mm / mV
Paper speed: 5mm / s, 10mm / s, 12.5 mm / s, 25 mm / s, 50 mm / s
Input method:floating input, built-in defibrillator protection and pulsation suppression circuit.
Time constant: ≥3.2s
Input Circuit Current: ≤0.1uA
Noise level: ≤15μVp-p
CMRR:> 90dB
Sample Rate: 500Hz / channel
Filter: EMG filter, DFT filter, AC filter
Power supply: USB DC 5V or DC 3V (AAA battery)
Safety Standard: Class II / CF
Small in size and light in weight, the weight is not more than 120g
Print formats: 12 x 1, 3x 4 + 1R, 3 x 4 + 3R, 6 x 2 + 1R, 3 x 4 and rhythm lead.
Rhythm lead: The software supports single rhythm lead and three rhythm lead customization, and can print the rhythm lead separately.
Real-time display of heart rate and automatic detection of lead off during ECG recording, support automatic detection and prompt of lead off
ECG waveform display supports multiple color schemes and supports color user-defined.
Support color printing
Support print preview: can display the precise report on the computer before printing.
High QRS wave report Print supports gain halve automatically
Export ECG reports in PDF / JPEG / XML, etc.,formats, which can be exported report automatically through settings without additional operations.
Rich diagnostic database and customize terminology templates to provide the faster input methods to doctor.
Muti-condition, fuzzy matching query can be used for database management
Data transmit: support ECG waveform and data remote transmit.
Support USB and Bluetooth modes.
Support pacemaker detection, can set up the intensity.
rinting Support standard A4 or B5 paper to print ECG report, and support horizontal and vertical multiple print formats.
Product registration certificate, CE and ISO Certificate.
How To Do Channel Connection?
6 Channels( 4 leads) Connection
Step1. Connect the lead wires to the electrodes.
Step2. The tip of each lead wire is lettered and color-coded for easy identification.
Please note:
The red or RA lead wire goes to the right arm
The yellow or LA lead wire goes to left arm
The black or N/RL lead wire goes to right leg
The green or LL lead wire goes to let leg
12 Channels(10 leads) Connection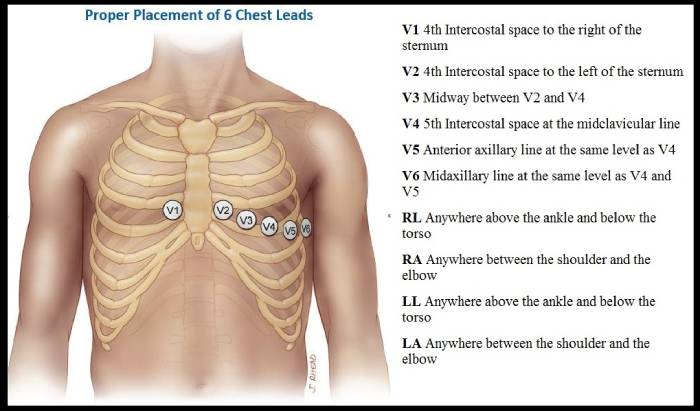 V1–4th Intercostal space to the right of the sternum
V2–4th Intercostal space to the left of the sternum
V3– Midway between V2 and V4
V4– 5th Intercostal space at the midclavicular line
V5–Anterior axillary line at the same level as V4
V6–Midaxillay line at the same level as V4 and V5
RL– Anywhere above the ankle and below the torso
RA– Anywhere between the shoulder and the elbow
LL– Anywhere above the ankle and below the torso
LA– Anywhere between the shoulder and the elbow
ECG Report