Non-invasive Vascular Screening Device
Registration Number: 20182210170, Production Certificate: 20162890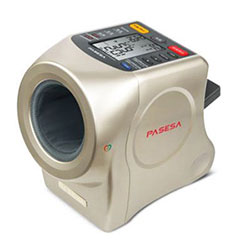 Applicable scope: it is applicable for measuring blood pressure, Arterial Velocity Pulse Index (AVI), Arterial Pressure Volume Index (API), Central Systolic Blood Pressure (CSBP, estimated value) and Central Aortic Pulse Pressure (CAPP, estimated value). The values are only for diagnostic reference.
The value of blood pressure measured by the device is equivalent to that picked up by the auscultatory method, and the error rate conforms to the requirements specified in YY 0667-2008.
The device has passed clinical verification according to the requirements in YY 0670-2008, and its safety and effectiveness has been proved to conform to the related regulations in YY 0670-2008.
The device should be used under the direction of a physician.
How To Use AVE-2000 Pro Arteriosclerosis Test Device?
Please download the user's manual PDF file here:
Terminology
Blood Pressure
The blood pressure is the pressure of the flowing blood against the vascular wall, and it also serves as the force to propel the blood flowing in the vessels.
Pulse Rate
The frequency of arterial pulse wave detected by the cuff, which is generally comparable to heart rate except under some special situations, such as in subjects with arrhythmia or severe occlusive disease in artery or cardiac valve.
AVI & API
AVI & API are the new vascular index jointly researched and developed by RIKEN, AIST, and Shisei Datum in Japan.
AVI & API are subject to the effect of age, gender, cholesterol level, blood pressure as the well as the history of diabetes, smoking and exercise, etc.
AVI may be reduced through regular exercise.
CSBP (Estimated Value) & CAPP (Estimated Value)