Global countries have shown that it's possible to control the spreading of the SARS-CoV-2 or Novel Corona temperature virus by implementing strong protective measures such as infrared camera pandemic to check fever. iDoctorcloud also provide more Covid-19 related products as the WHO recommended.
Facial Recognition Infrared Thermometer Wholesale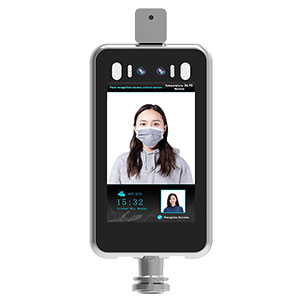 IR temperature scanner
Scan by facial recognition
Dual eyes live detection, anti-image fraud, anti-video fraud
8 inches IPS display
Auto temperature detection, auto display, auto alarm
This is our infrared temperature measuring machine with face recognition. It combines the features of a facial recognition camera and a infrared thermometer, which can scans, recognizes people's faces and measures their body temperature, warning people with abnormal body temperature, this can effectively prevents the early spread of the coronavirus.
Specification Of Face Recognition Infrared Thermometer
Location
Indoor
CPU
Linux, MX3520,
ARM Cortex A7 1GHz
NPU(face recogntion algorithm)
Inbuilt Convolutional Neural Networks accelerator NPU,1.2T Hash rate
RAM
DDR3 512MB
Internal storage
EMMC 8GB
Face capacity
50,000 faces
Facial recognition speed
0.5-1 second
Voice announcement
English or French
Fever warning
Support
RGB camera
1/2.7″ Industrial wide dynamic sensor
Purpose: Face recogntion
Inbuilt chip: AR0230
Resolution: 1920*1080
1080P Real Video output
Dot dimension: 2.9um*2.9um
SN ratio: 45dB
Dynamic range: 115dB
Lens structure: 650nm±10nm
Iris: 2.0
Focus length: 4.35mm
FOV angle: D=65°H=59°V=38°
Deformation: <1%
Lens combination: 4P+1IR
100dB wide dynamic range, suitable for complex light condition
30 frames/second
IR camera
1/5″ industrial low illumincance sensor
Purpose: Live detection
Inbuilt chip: GC2145
SOC image processor ISP
1080P Real Video output
0.01Lux low illuminance with 850nm infrared LED, suitable for various of complex light condition
Resolution: 1616*1232
Dot dimension: 1.75um*1.75um
SN ratio: 45dB
Dynamic range: TBD
Lens structure: 850nm narrow bandth ±10nm
Iris: 2.8
Focus length: 2.8mm
FOV angle: D=75°H=66°V=43°
Deformation: <1.5%
Lens combination: 4P+1IR
30 frames/second
Infrared thermal imaging module
Sensor Type : Thermopile far-infrared sensor
Purpose: Temperature detection
Detection distance: 30-100cm
Temperature difference: ≤ ±0.2℃
Resolution: 32(H)x 32(V)
Pixel Size : 90um
Maximum Frame Rate :7~9Hz
Display
8 inches
Resolution: 800*1280
Image spin
0 , 90 , 180, 270 degree spin
Real time clock
Inbuilt clock IC, setup ON/OFF time
Network
RJ45 port,100M ethernet
WIFI,support Wi-Fi 802.11b/g/n protocol
Hotspot
I/O port
USB OTG
1 TTL, 1 RS232
1 Relay output
Audio
Inbuilt speaker at 2W 8Ω
Light compensation
Support white light, red LED compensation
Automatic or ON/OFF light compensation
Functions
Live detection
With or without mask
Guest access control
Face similarity: 0-1
Temperature compensation: 0-1000
Language: English, French(expandable)
Fever detection: 28-37.3℃(programmable)
Image import: USB or PC import
SDK
Provided
Case material
Aluminum CNC process, IP65
Power
DC12V(±10%)
Working temperature
-10℃~60℃
Storage temperature
-20℃~60℃
Consumption
12W(Max)
Mounting type
Mounting or hanging, or by floor stand
Dimension
42*18*13cm
Weight
1.7 kg
Main Features Of Facial Recognition Temperature Sensor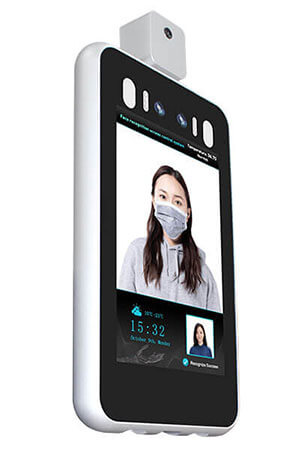 IR temperature sensor
WIFI Temperature sensor cheap
20,000 face local database, accuracy>99.97%, face recognition speed<200ms
Dual eyes live detection, anti-image fraud, anti-video fraud
8 inches IPS display
Auto temperature detection, auto display, auto alarm
Infrared and RGB double light compensation, support face recognition under weak light
Option: WIFI/4G communication
Support: Voice announcement
Working environment: -10℃~60℃
Metal case: IP65
Certificates Of Facial Recognition Temperature Sensor
What Do You Need To Know Before Purchase?
Notices before purchasing facial recognition temperature sensor:
1. Where Are You Going To Install These Devices?
Wall mount? Floor stand? Desk stand? or Security turnstiles mount. Please specify your installation location so we could prepare the bracket for you.
For mounting on the barrier gates:
For hanging on the pole of wall:
For standing on a alone pole:
2. Do You Have A Back-end Software Developer?
Our device is a facial recognition terminal for data collection at the site, you could integrate the data from our device to your existing system, such as access control system, which means we could provide APIs for your integration.
The advantage of integration includes:
Access data can be stored
Temperature status of each people can be stored
Face image of each people can be stored
History report can be created with details
The device can be upgraded through network remotely
3. If You Don't Have Developer…
If you don't have this developer, which means you will use this facial temperature sensor tablet as a standalone unit.
The temperature screening device operation is pretty simple: the person just walk in the lane and face to the device(installed beside the lane or on the barrier gate closely) within 1 meter(which is a comfortable distance) and device can recognize your face and scan your forehead temperature, his thermal image will be displayed on the monitor screen and alarm if his temperature is at fever degree range.
Fully privacy compliant: the developer could define what information is shown and stored. From anonymous self-assesment with an easy code and no metrics to a centrally monitored system with visual images and name recording. Each sensor or thermal camera is calibrated traceable to the NIST standards at 33 and 35℃ during a 20-25℃ environment. The privacy is well protected that the data can be chosen to display or hide, you define the extent of privacy that you simply need for your screening deployment. you'll set it up as a self-screening station with no supervision with or without showing the temperature. you'll also set it up with the temperature visible to the person or a supervisor (receptionist, security agent, …). Optionally you'll even enter the name of the one that was recorded in order that you've got an audit trail per scanned person.
The thermal scanner IR spot sensors operate a wide angle to detect an individual in a lane , temperature screening system scans one person at one time. Scanning is extremely fast. Every 0.5 seconds a temperature reading is processed and validated against the defined limits. Using different thermopile electronics, the sensor has automatic compensation algorithm to adjust ambient temperature data. This improves the temperature result accuracy and reduces temperature drifting. Our IR temperature sensors work by capturing the emitted infrared within a narrow field of view. The infrared camera public health detects if an individual is within the specified 1 meter (3 ft) range then takes the measurement and compares it against the defined limits that you simply want to use for your organization.
Keep in mind that body core temperature and skin temperature aren't an equivalent . The skin temperature is lower than the body core temperature.
With the camera add-on you'll store a photograph of the scanned person along side their temperature data, the kit includes following hardware with special modified firmware and software: they need onboard a series of sensors that you simply will find in our IR spot sensor, by adding a thermal cameras and AI software, the kit not requires stopping for screening. With this thermal infrared camera it becomes a walk-through screening solition.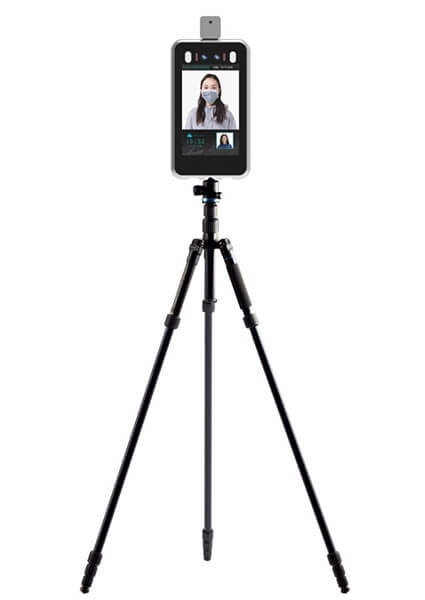 For this emergency application, we developed an answer supported our existing thermal camera sensors for critical infrastructure. With this new thermal camera based sensor we've made it a standalone device with AI software to specialise in the human skin temperature range. Using its normal camera it provides a thermal overlay on top of the traditional picture; augmenting the thermal resolution of 80×60. Using special algorithms with special sensors, we are ready to bring down the accuracy from the traditional ±5℃ to ±0.5℃ at 37℃ during a 20-25℃environment.
It doesn't replace a professional medical grade thermometer equipment. By default it returns the higest temperature it can find within the range of the human skin temperature.
The AI software also can detect if someone is wearing a mask or not. The thermal camera features a daily camera with thermal overlay for augmented thermal reality. It are often mounted on a barrier gate or wall. With the AI feature the software will scan for human faces then identify the very best temperature within those faces.
The software scans with the IR spot or thermal camera for a person's skin temperature range; which is usually between 33.6℃ and 36.9℃. When a temperature is found that's above defined threshold, an alarm is raised: visual (red) and audible (sound). AI software is provided along with the Thermal Camera kit. This AI software enables to detect faces, mask wearing. Facial recognition temperature sensor directly connect with the Monitoring Appliance's RJ45 ports. They exchange data with the software. The Monitoring Appliance is a compact PC with Windows Enterprise IoT 10 preloaded. It can hook up with a network employing a regular RJ45 network cable OR via wifi. The appliance can store all data from the camera.
FAQ
You May Also Like