Infrared Thermometer is widely used in every public places for COVID-19, It quickly detects whether the human body is carrying a fever without the need for contact. Readings take less than a second and the screen will display immediately. iDoctorcloud also provide more Covid-19 related products as the WHO recommended.
Infrared Forehead Thermometer Wholesale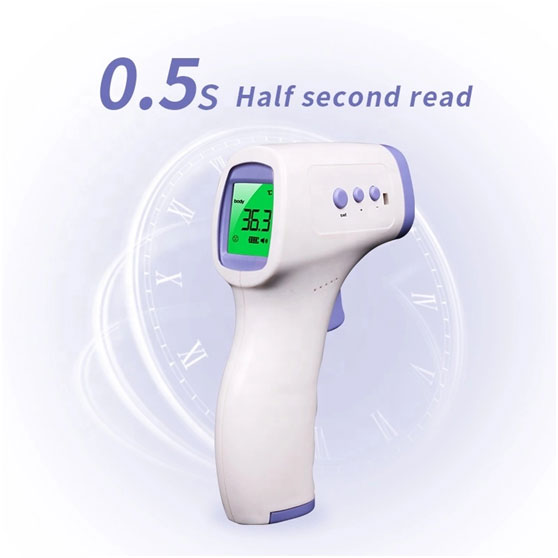 AD801
Accurate temperature readings
quick temperature readings
energy saving
Want to know price and delivery? Contact us!
This CE certified Infrared Forehead Thermometer is designed to very quickly measure the body temperature. Designed for all ages, the LCD backlight screen is easy to read and the non-slip handle is comfortable to grip. The forehead thermometer can be used repeatedly no touch, don't worry about contact with others.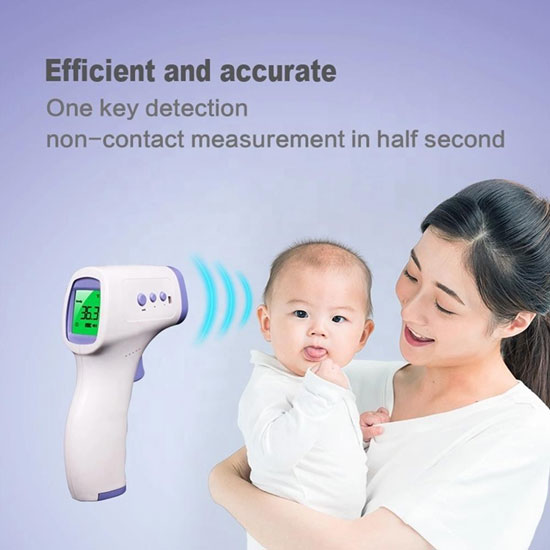 Specifications Of Infrared Forehead Thermometer
Color: White + purple
Material: ABS Plastic
Temperature sensor: Heimann J11F5.5 High accuracy sensor
Application: Body temperature measurement
Measuring Distance: 3~5cm / 1.18~1.97in
Measuring Time: Less than 1s
Automatic Power Off: 15s of idle operation
Accuracy: ±0.2℃ in the range of 35℃~42℃, ±0.3℃ out of the range of 35℃~42℃
Normal Working Environment Condition: 16~35℃; relative humidity:<85%; atmospheric pressure:70kpa~106kpa
Storage: 5 sets of measurement
Power Supply: DC3V, 2 * AAA batteries
Unit package Size: 14.3*9.3*3.8cm / 7.09 * 3.94 * 1.97in
Carton size: 54.6*34.6*25.5CM(50 pcs/Carton)
Carton net weight:8Kg
Carton gross weight:8.7Kg
How To Use Forehead Thermometer?
This Infrared Thermometer is designed to take accurate body temperature readings in less than a second. Taking your temperature with the Infrared Thermometer is as simple as positioning the 'thermogun' 3 – 5cm from the patient's forehead and pulling the trigger. Temperature readings are given in a second or less; inn degrees Celsius or Fahrenheit.
You can click here to download AD801 User Manual:
Forehead Thermometer Accuracy
Our forehead thermometer use Miniature Thermopile Sensors for Remote Temperature Measurement and Gas Analysis.
You can click here to download AD801 forehead thermometer datasheet PDF file to check:
The HMS Series of CMOS compatible thermopile sensor chips in TO46 (or TO18) and even smaller transistor housings, features good sensitivity, small temperature coefficient of sensitivity as well as high reproducibility and reliability.
The smaller package sizes benefit applications in which sensor mounting is a critical parameter. Especially the ultra small HMS Z11 F5.5 sensor with high symmetry (no orientation tab) opens new design and application possibilities. The HMS M-types offer the possibility to integrate an infrared lens into a TO46 housing and to reduce the field of view accordingly. The smaller chip TP1 is well suited for temperature measurements which require a precise measuring spot whereas the chip.
FAQ
You May Also Like