Non-contact Automatic Induction hand sanitizer Dispenser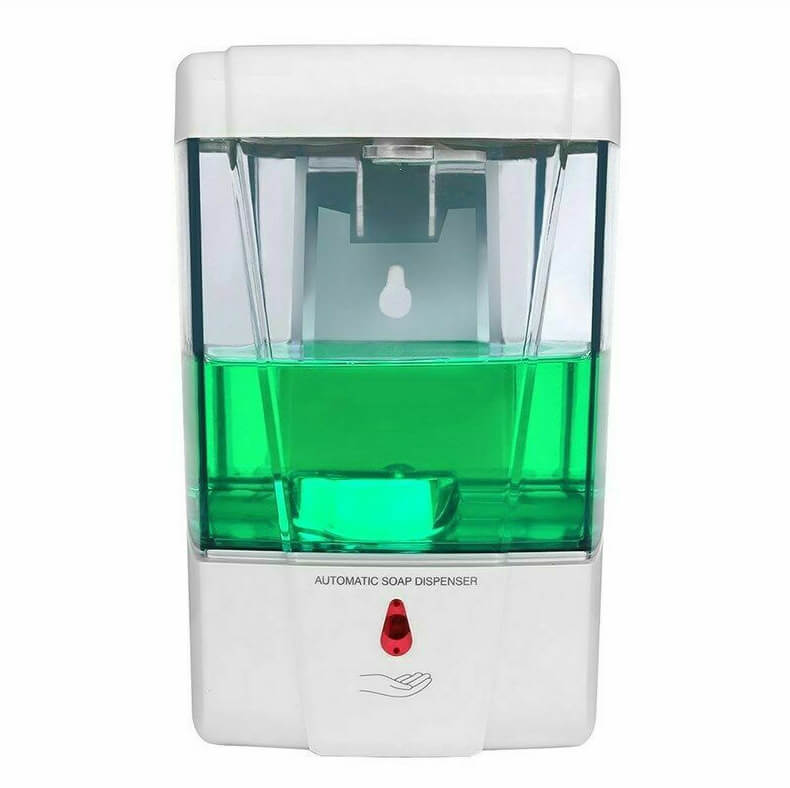 Automatic Touch less Hand Sanitizer Dispenser is a hand-free and no touch automatic dispenser for liquid, gel, or spray hand sanitizer, it can be wall mounted, or with floor height adjustable stand, this hand sanitizer is suitable for public places, and Covid-19 related product since the outbreak of Covid-19 global pandemic.
Hands clean and personal hygiene are essential in our daily life, we should keep ourselves in a clean environment and a safe distance from others as possible as we can.
By seriously choosing components, iDoctorCloud is proud to announce the hand sanitizer is durable and reliable, which is suitable for home use, and public use.
It has an inbuilt battery so it is suitable for the areas where the power supply is unstable or inconvenient, the cycle of the battery is about 20,000 times. It stops liquid drop once your hand has left under the sensor.
Video Of Hand Sanitizer Dispenser and floor stand
Specifications Of Soap Dispenser
| | |
| --- | --- |
| Liquid types | Liquid, gel, or foam(need to change pump, specify before the order), spray(need to change pump, specify before the order) |
| Capacity | 600-700ml |
| Liquid volume per time | 2-3 ml |
| Material of case | ABS plastic |
| Power supply | 18650 Lithium battery, 3.7V 1200 mAh, with USB micro B port |
| Voltage | DC 6V |
| Working current | 120mA |
| Standby current | 60μA |
| Sensor range | 3-8cm |
| Battery low status | Red LED indicator blinks |
| Working temperature | 5~40 ℃ |
| Working humidity | 0~95% RH |
| Water proof | Water splashing proof |
| Size | 110*100*165mm |
| Weight | 0.45kg(NW)/0.55kg(GW) |
| Quantity per carton | 30 units |
| Carton dimension | 570*355*375mm |
| Carton weight | 18kg(GW) |
Features Of Hand Sanitizer Dispenser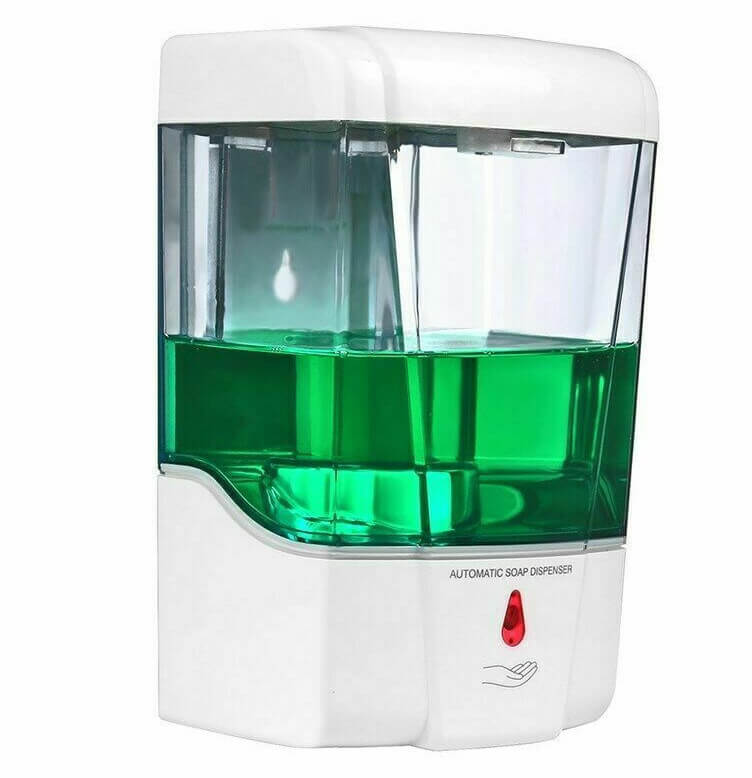 The material of case: ABS plastic
The material of pump head: POM(Polyformaldehyde)
Inbuilt infrared sensor, no-contact automatic control
Inbuilt motor: Low noise, DC 6V, 3300RPM
A lifetime of motor: 1 million times
A lifetime of pump head: 1 million times
Power supply: Battery or USB
Low noise
Size Of Hand Sanitizer Dispenser

| | |
| --- | --- |
| Liquid container | 600-700ml |
| Body length | 110mm |
| Body width | 100mm |
| Body height | 165mm |
Detail Images Of Hand Sanitizer Dispenser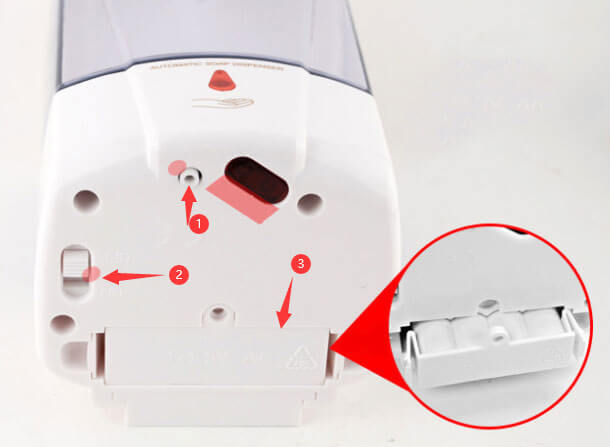 The liquid outlet
Power on/off
Battery case
Automatic Induction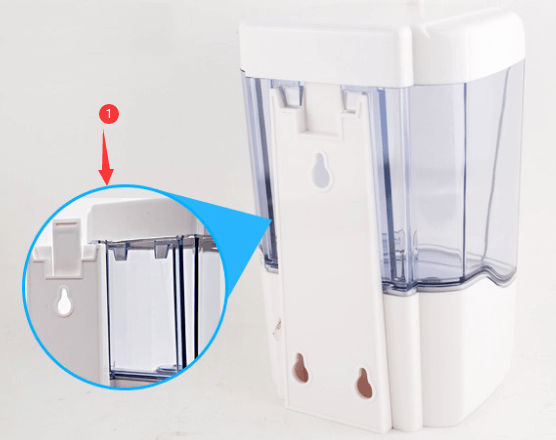 The hanging hole on the back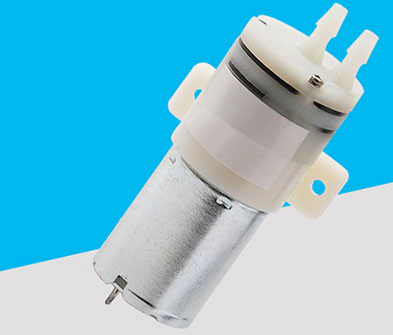 Vacuum pump:
Dosage: 2-3ml per time(1 second per time)
Low noise: <65dB
Life time: 500 hours(equals to 1.8 million times)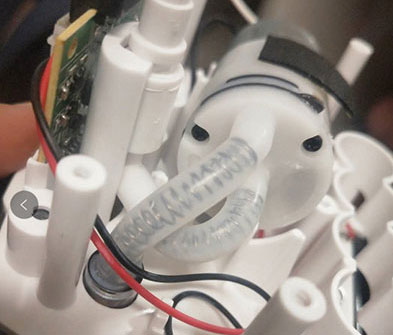 Tube for liquid transmission: Inbuilt spring to avoid stuck or jam
Material: POM(Polyoxymethylene)
Lifetime: 3 years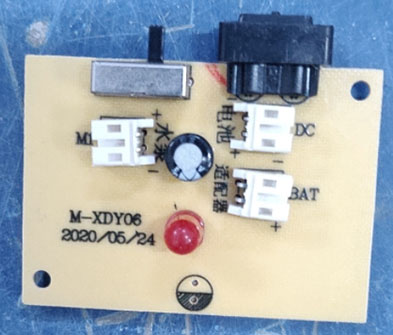 POM(Polyoxymethylene) is a popular material used in industry, it can withstand acid or soda environment, low absorb water, and durable for long time.
Accessories Of Soap Dispenser

Packing box
User manual
3 pcs of anchor bolt
3 pcs of screw
Advantages Of Hand Sanitizer Dispenser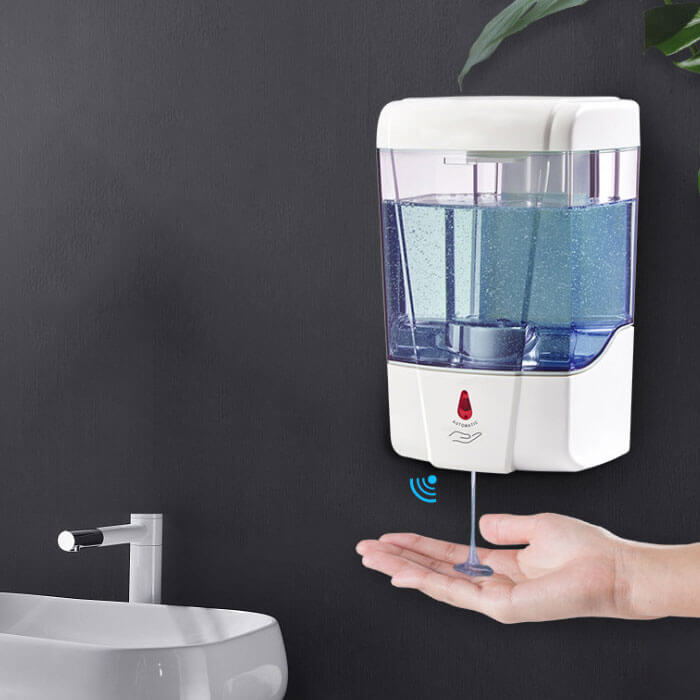 Anti-drop protection
Automatic IR sensor
Non-contact liquid output
Even the dosage of liquid output and no waste
600-700 people use per refill
No need maintenance
Power supply: Power adaptor or AA batteries
Long lifetime: 1 million times
Could print your LOGO and OEM
Application Of Soap Dispenser
The Hand Sanitizer dispenser is perfect container for hand sanitizer, hydroalcoholic, liquid soap foaming, it can be widely applied in: homes, kitchen, public places like: office, restaurants, schools, hospitals, airports, bus stations, metro, government bureaus etc. It can withstand long term use and durable as initial status.
How To Install Hand Sanitizer Dispenser?
Warm tips:
Clean the surface of the wall and rear plate before installation.
The suggested installation distance with the sink is 30-40cm, as its sensing distance is 0-10cm.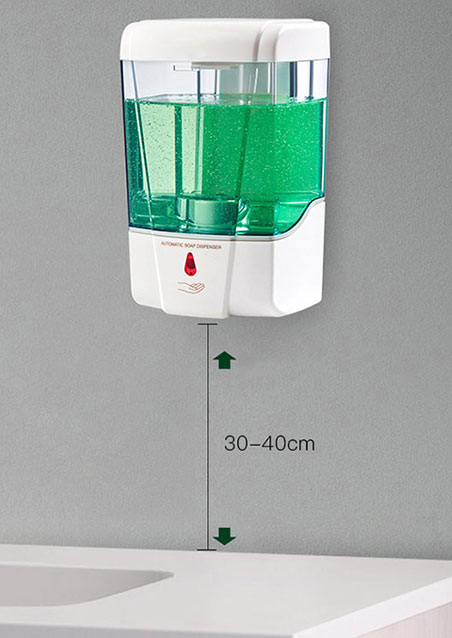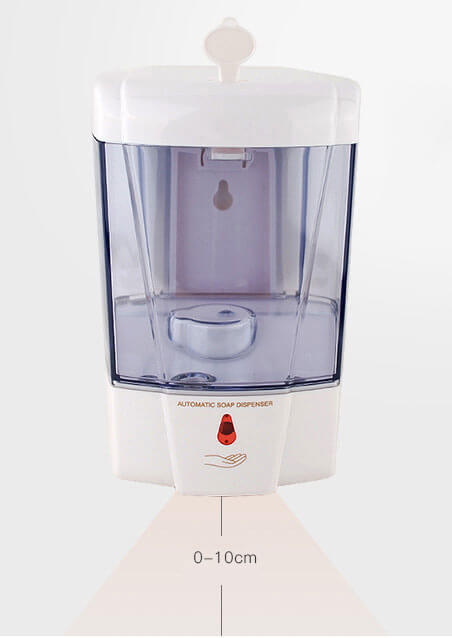 Method 1: By 3M Glue
Step1: Take down the hanging plate;
Step2: Stick 3M glue on the hanging plate;
Step3: Apply thick super glue;
Step4: Stick the hanging plate on the wall, wait for 24 hours and then install the soap dispenser.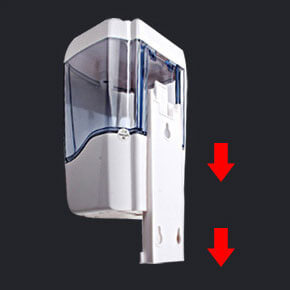 Method 2: By Screw
Step1: Mark the wall according to the holes on the plate;
Step2: Drill the hole and insert anchor bolt;
Step3: Fix by screws;
Step4: Hang up the device and insert batteries.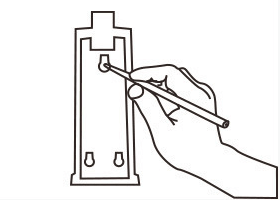 How To Refill Automatic Hand Sanitizer Dispenser?
step1: Unscrew the top lid;
step2: Refill the hand sanitizer or liquid soap directly into the container;
step3: Lock the box after liquid refill.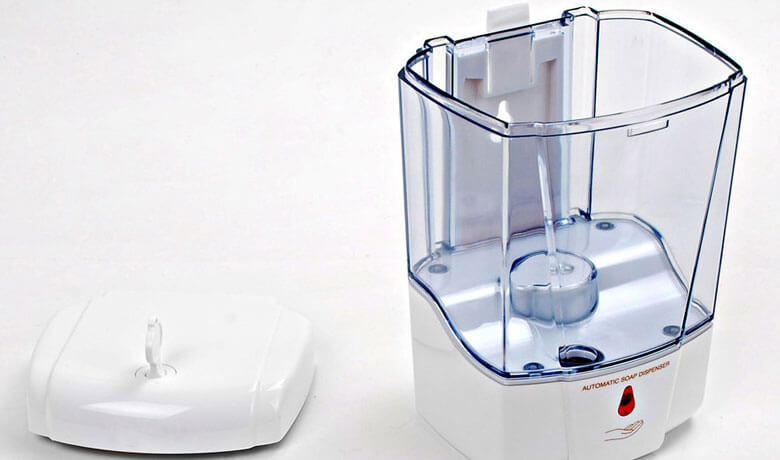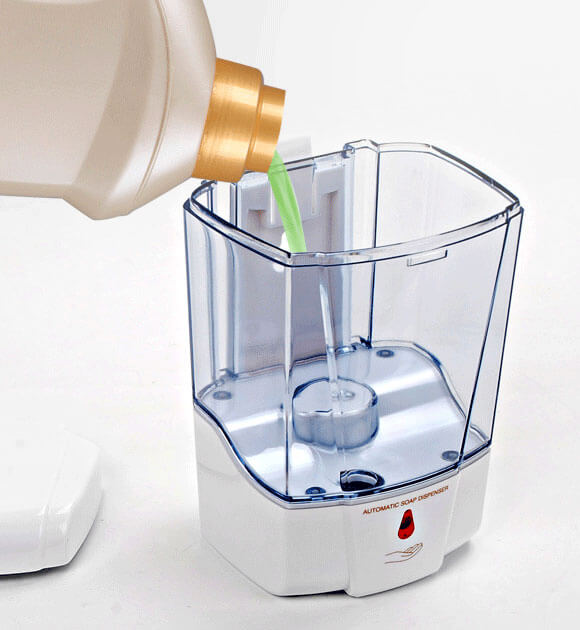 Why Need Automatic Hand Sanitizer Dispenser?
Compared with manual hand sanitizer, automatic hand sanitizer doesn't need people to stretch the hand and press the knob, so it prevent people from touching the device and having the risk to get infection.
There are two options for hand sanitizer purchasing, one is manual hand sanitizer with foot switch, the other one is automatic hand sanitizer with a simple stand(without foot switch), both solution can serve public well, if you are not short of budget, we recommed automatic hand sanitizer with simple floor stand because the automatic soad dispenser has no big cost difference and it gives the convenience for all the people, as we know, not all the people or not all the moment does a people is convenient to press the knob to take the hand santizer, non-contact and automatic control doesn't need you any force it just need you an aproaching, no other action, this is the convenience of technology.
The dosage of automatic hand sanitizer is average because it is controlled by electric pump mechanism, once a people put the hand under the device, its IR sensor begins to work and output the liquid, no touching, no infection risk.
FAQ
You May Also Like